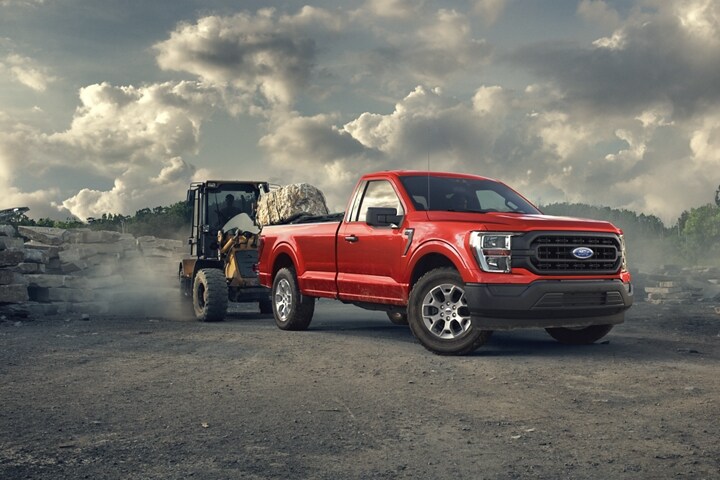 Ford Dealer serving Parkersburg WV
Ford is known for their powerful and efficient vehicles you can't find anywhere else. So whether you are looking for something to haul the kids to soccer practice in, like the Ford Escape, or something to move around a bunch of material in, like the Ford F-150, you are guaranteed to find what you are looking for! Here at Competition Ford, we specialize in getting you the right Ford for your needs, whether it be new or used. Feel free to test drive any of the Fords on our lot until you find one that suits you. Once you do, we have a whole team of finance experts ready to take it from there. Even if you cannot make it to the dealership right now, you can still view our entire Ford inventory here on our website!
Getting from Parkersburg to Competition Ford
To get to our dealership from Parkersburg, start by getting on 5th street heading towards Oho. Get onto US-50 W. Get in the right lane to get on the ramp for US-33 W heading towards Columbus. Get off at the OH-93 exit toward Logan. Make a right onto E Main Street, and Competition Ford will be on your right. If you see the restaurant TheFeed, you have gone too far!
About Parkersburg West Virginia
The first settlers to Parkersburg called the city Newport when they settled it just after the Revolutionary War. The colonization was part of a westward migration of settlers from parts of Virginia to the east to be closer to the Atlantic Ocean. There was a town section that was laid out on land that was granted to Alexander Parker for his service in the Revolutionary War, which was customary in Virginia at the time. For his service and because of his stake in the land, the town was renamed Parkersburg in 1810. During the post-World War II period, Parkersburg became one of the leading industrial centers of the Ohio Valley as the city produced chemicals, glass, O. Ames tools, textiles, plastics and polymers, iron, and steel.
Get a new Ford near Parkersburg
For those drivers who live in and around the Parkersburg area, our team here at Competition Ford can assist you in finding the right new Ford Bronco, Explorer, or F-150 to suit your needs right on our lot or here on our website. We know that all kinds of drivers have different needs in their day-to-day driving life, so we here at Competition Ford have a wide range of Fords for every one of our customers so they can get the best Ford for their needs. Feel free to test drive as many Fords on our lot as you want until you find the right one, and if you have any questions, be sure to ask one of our amazing sales team reps, who be more than happy to answer any questions you may have! We can't wait to put you in the Ford of your dreams here at Competition Ford!
Pre-Owned Fords at Competition Ford
Are you currently shopping around Parkersburg, West Virginia, for the perfect pre-owned Ford Escape or Edge? Competition Ford is the only place you'll need to visit for all of your Ford need! We have a wide selection of wonderfully-priced, high-quality vehicles, so we're sure we can find a pre-owned Ford that suits your tastes. In addition, all of our pre-owned Fords have been checked over thoroughly, so you know that you will always be getting a used Ford that will last you for many years. You can also view our entire pre-owned Ford inventory right here on our website!
Financing for your Ford at Competition Ford
Here at Competition Ford, we have the resources you'll need to find the best lease rate for your budget. First, start your application online with our secure finance application form. Then, if you have any questions or need help figuring out all of your options, our highly skilled finance team will be there for you every step of the way to help you out with our many years of experience. Once we approve your loan, you will be free to check out our entire Ford inventory for your perfect Ford vehicle! We look forward to helping you with your financial needs here at Competition Ford!
Ford Parts and Service near Parkersburg
Those drivers living in and around Parkersburg, West Virginia, can take advantage of our Ford repair center, which can help you keep your Ford F-150, Escape, or Bronco running like new. Whether you need an oil change, tire rotation, or something more substantial, our talented team of technicians will be more than happy to take a look at your vehicle and quickly fix what needs fixing. In addition, we have a trained staff that will help you in acquiring even tough-to-find parts and accessories for your Ford, and you can also order new Ford parts here on our website. You can schedule a service appointment by filling out a form here on our website! We look forward to working on your vehicle here at Competition Ford!
Parkersburg Resources
Check out all that Parkersburg has to offer!